The Contractor Marketplace for Hospitality
Lucia's marketplace connects hospitality businesses with skilled contractors. These CoPilots provide administrative, strategic, creative, and customer support services.
Book a Demo
As seen in

The Power of the Lucia Network
Unlock Exceptional Talent
Fill your skill gaps, enhance your services, and drive your business forward with skilled professionals who deliver exceptional results.
Streamline Your Workflow
From hiring to payment, Lucia simplifies talent management, saving you time and ensuring smooth operations.
Ongoing Support
If you need help finding the perfect CoPilot or need help with how to get started, the Lucia team is always available for consultations.
Book a demo
Trusted Partners

Reduce Hiring Costs by 90%
Searching for the perfect talent is both an art and a science. We remove the entire process by introducing you to a streamlined experience that will save you thousands of dollars and hours of time. Join us for a consultation and let our platform take care of the rest.
Book a demo
---
Book a consultation
We will help you identify your business' needs and pain points before pairing you with some suggested CoPilots.
Self serve platform
If you want to find the perfect CoPilot on your own, our platform is entirely self serviceable and ready for you to get started.
Take advantage of our community
Our network brings together thousands of experts in travel, tech, hospitality, service and marketing. You're never on your own.
Get Ready to Take Flight
Lucia supports requests ranging from individual tasks to ongoing projects.
CoPilots can serve all parts of the travel ecosystem.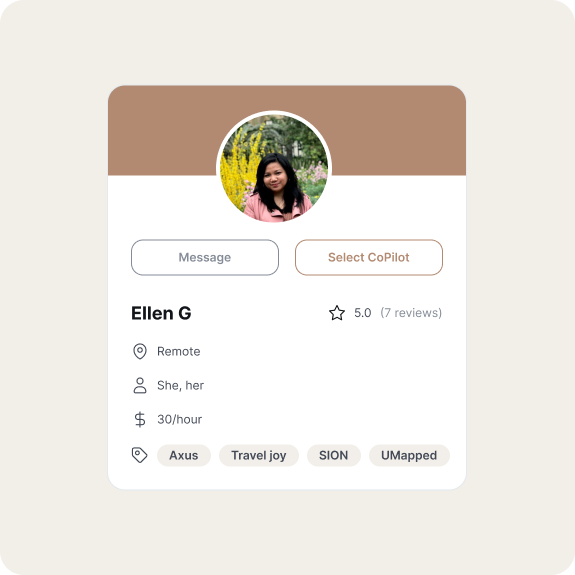 Why Choose Lucia?
Proof of quality
Transparency is crucial to us. Explore each CoPilot's profile, client reviews, and identity verification to ensure you're hiring the right fit for your project.
You're in control
You're entirely in charge of your experiences on our platform. We don't set prices, expectations, or requirements, so that it fits perfectly into your business.
Safe and secure
Rest assured that while you focus on your work, Lucia is committed to safeguarding your data and privacy. We're here with 24/7 support if you need assistance.
Book a demo
More than 300+ companies use Lucia to grow their businesses
"Advisors who leverage others' unique abilities for support will have exponential success and Lucia has added an innovative way to tap into that potential."

Matthew Upchurch
CEO & Founder of Virtuoso
For Talent
Ready to take your business to new destinations?
Discover new horizons as you meet and collaborate with clients who inspire you, taking your career to exciting new destinations.
Find opportunities for every stage of your contracting career
Control when, where, and how you work
Explore different ways to earn
Become a CoPilot